Mercedes-Benz Metris
The Mercedes Metris by Explorer is a great addition to the Explorer Van family. The first "mid size" van of it's kind, the Mercedes Metris opens up the Explorer Van lifestyle to those who don't need a full size van but still want the comfort, style, and custom feel of an Explorer Van.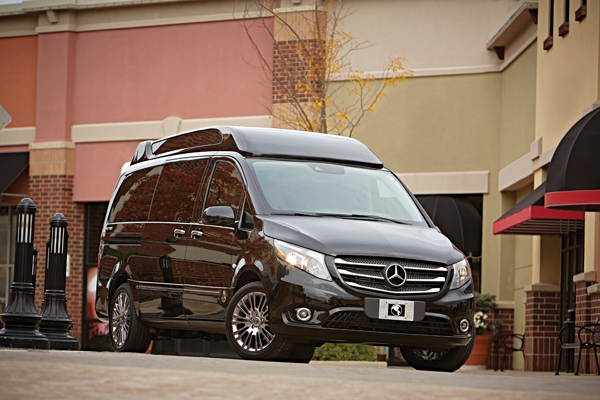 Have you outgrown your mini-van?
Does your SUV or Crossover vehicle look like everyone else's in the neighborhood? Are you ready for more interior space without having to make the jump to a full size van or SUV? If so, then the Mercedes Metris by Explorer might be the perfect vehicle for you and your family.
The Mercedes Metris by Explorer was designed to offer relatively nimble dimensions with the cargo/passenger-carrying ability of larger vans. Slotted between a mini-van and a full size van, The Metris has many of the custom appointments Explorer is known for along with everything you'd expect from Mercedes-Benz.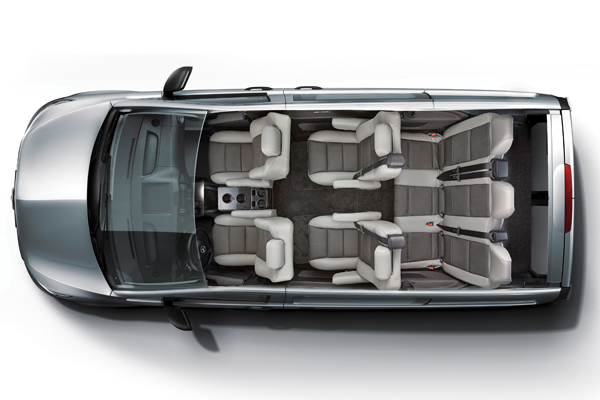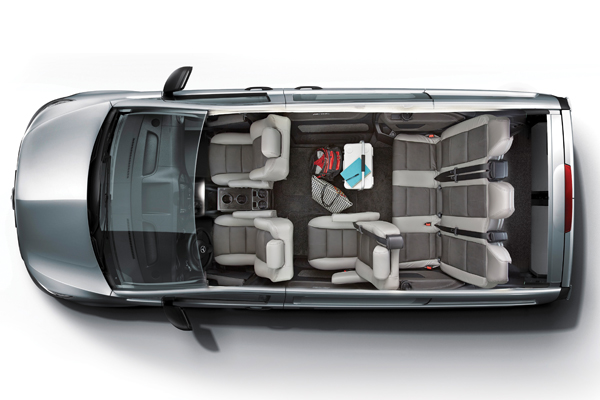 STANDARD FEATURES
Low Top Roof Rack
Sport Roof with Panoramic Vista Cruiser Glass
Rear Power Sunroof
Custom Fade Paint
Lower Body Cladding with Chrome Trim
Chrome Front Grill
22″ HDTV with Blu-ray™ Player (Sport Roof only)
17″ Flip-Down HDTV with Blu-ray™ Player (Low Top only)
Upgraded Entertainment Package with 110V Outlet and HDMI Input
18″ PVD Wheels with Michelin® Tires
KENWOOD Navigation
OPTIONS
Premium Paint Package – Painted Full Body Cladding,
Mirrors, Door Handles and Hood Vents
Front Step Bumper
Leather Seats
Heated Seats
Power Lumbar Front Seats
Three-Way Power Sliding Rear Sofa
Traditional Sport Roof
Vista Cruiser Sport Roof with Full Panoramic Automotive Glass
Power Rear Sunroof (Sport Roof only)
Lighted Drink Holders
USB Charging Ports
Air Compressor and 12V Vacuum
Indirect Lighting Dimmer Switch
Dynamat® Sound Deadening in Floor
CHASSIS OPTIONS
Chassis Options Mercedes-Benz Metris Standard Equipment
Model: M1PV126
Exclusive Features:
Flint Grey Metallic
Tunja Black Upholstery
Automatic climate control
Rear Backup Alarm
Premium overhead control panel
Tailgate surrounding light
Interior Lighting in Rear
Front Passenger Seat (Standard)
Bench – Two Place Seating
Single Flip-up Tailgate
Safety Features:
Driver Efficiency Package
Active Safety Package Plus
Power Group Features:
Power Sliding Door right side
Power Sliding Door left side
* All pricing & equipment subject to change without notice, see your dealer for details.
COLORS
Due to the limitation of your monitor resolution, all colors represented throughout this website are a close approximation and are not intended for color matching purposes.
SPECIFICATIONS
| EXTERIOR SPECIFICATIONS | |
| --- | --- |
| Wheelbase | 126″ |
| Length | 202.4″ |
| Height, (Low Top / Sport Roof) | 74.4″ / 82″ |
| Body Width | 75.9″ |
| Swing-Out Side Doors – Height | 49″ |
| Swing-Out Side Doors – Width (both doors open | 35.5″ |
| Rear Doors – Height | 48″ |
| Rear Doors – Width | 50″ |
| INTERIOR SPECIFICATIONS | |
| --- | --- |
| Headroom – Low Top | 41.4″ |
| Headroom – Sport Roof | 48.4″ |
| Seating Capacity | 7 |
| Legroom – 1st Row Seating | 43″ |
| Legroom – 2nd Row Seating | 18″ |
| Legroom – 3rd Row Seating | 17″ |
| Cargo Room | 38 cu. ft. |
| CHASSIS SPECIFICATIONS | |
| --- | --- |
| Engine | 2.0L 4-Cylinder Turbocharged Direct Injection Gas |
| Horsepower | 208 |
| Transmission | 7G-Tronic Automatic |
| Towing | 5,000 lbs. |
| Fuel Economy | 20 City / 23 Highway |
| Fuel Tank | 18.5-Gallon |