July 23, 2014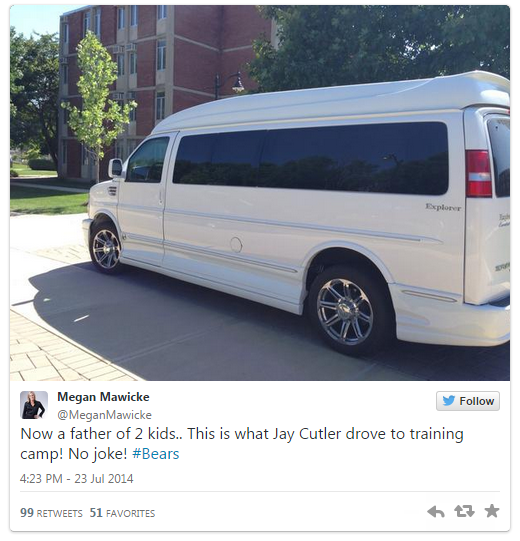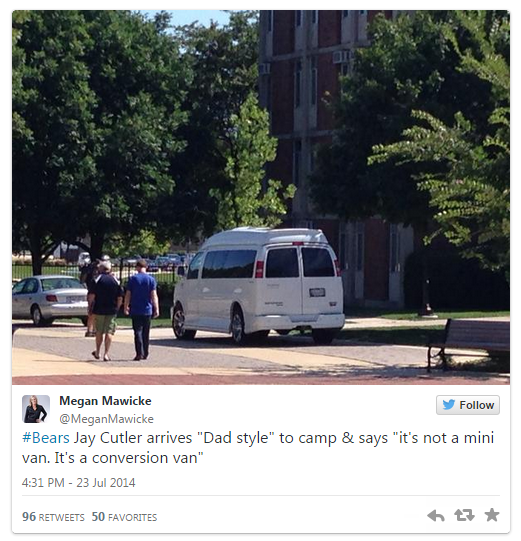 Jay Cutler showed up to Bears training camp today driving the vehicle you see above, what Jay calls a conversion van. Cutler made it very clear that this was not a mini-van, probably because he has spawned a whole brood of mini-Cutlers and a mini-van seems like a pretty sensible option for a dad. But it's a conversion van, not a dad-van.
https://twitter.com/photo/1 Can't you see Jay Cutler cruising around the 'hago—other people call Chicago that, right?—blasting Steppenwolf in his conversion van, while the kids sit 20 feet away, all the way in the back? [Head bobbing] "What's that? Blues Clues DVD?" [motions to ears] "I can't hear you." Definitely not a dad van, but aren't you falling in love with Jay Cutler all over again?
His teammates are also down with the conversion van. Backup QB Jordan Palmer actually hitched a ride in the van and Matt Forte, despite his snooty automobile taste, hopes to check it out sometimes soon. Keep on vannin', Jay Cutler.
Source:http://deadspin.com/j0
BOURBONNAIS — Bears players pulled up to Olivet Nazarene University on Wednesday in Bentleys, Range Rovers, BMWs and other rides expected of professional athletes. But no one can top what quarterback Jay Cutler — now a father of two sons — is driving these days.
Take a look at his custom conversion van: And definitely don't call his giant white ride a minivan if you want to ask Cutler about it.
"It's not a minivan, it's a conversion van," Cutler said proudly. "There was one (car seat) in there this morning, I took it out."
A lot is expected from Cutler in Year 2 of the Marc Trestman era. It's the best situation he's ever been in his career, whether it's signing a massive seven-year extension or the return of every offensive starter and coach.
"It should be fun," Cutler said. "We have a lot of guys back. A lot of consistency and rollover from last year. It's going to make things easier. Adjustments should [take] less time, getting into camp and getting rolling."
Source: http://voices.suntimes.com/-van/