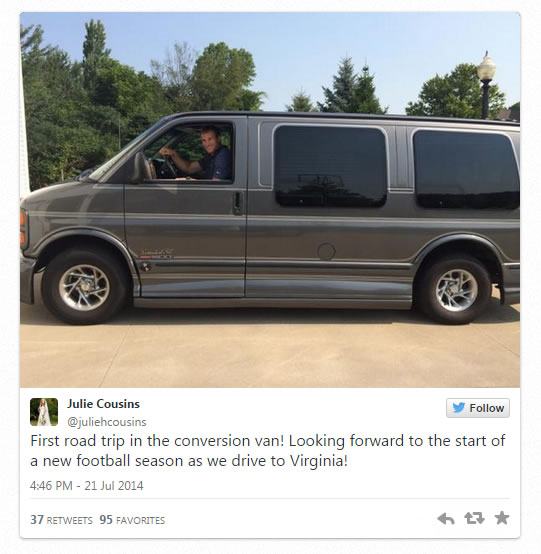 July 28, 2014
Does MTV still do that show Pimp My Ride? If so, the next contestant should be Kirk Cousins and his conversion van.Yes, the Washington Redskins quarterback has a conversion van that he bought from his grandparents.
According to the Washington Post, Cousins isn't trying to make a statement or anything, he's just always liked his grandparents' van and after his grandfather passed away during the offseason, his grandmother didn't need it, so he bought it.
"It'll serve us well," Cousins said. "Because my wife and I each have a car, but then when people come into town it'll kind of be a third car. And it's perfect for driving the hour-and-a-half from Ashburn to the games. And then they can tailgate, and they've got a TV in there, and you can kind of carry luggage in there. So it works well when visitors come to town for games, and Julie and I will take it on road trips in the offseason."
Cousins said his teammates haven't seen the new ride yet, but he's excited to show them. "Wait until I roll into the facility when we get back to Ashburn,"
Cousins said. "That'll be fun. I think my teammates will laugh a little bit." Why would they laugh? There is absolutely nothing funny about an NFL quarterback driving a conversion van. Zero things about that are funny.